AOOPA Mission Statement
To promote growth for the American olive oil industry, create fair access to global markets, and ensure the integrity and quality of olive oil for all consumers.
Founded in 2012, the American Olive Oil Producers Association is the unified voice for American olive oil producers and their state associations. AOOPA advocates in Washington, DC, state capitols and with partners around the world for policies for fair global market access for all producers; to support effective testing, standards and regulations; and to promote education about the quality and culinary and health benefits of olive oil.
AOOPA Board of Directors (2015-2018)
Kimberly Houlding
,
AOOPA President & CEO
Adam Englehardt
,
Chairman
Boundary Bend Olives
Patrick Ricchiuti
,
Vice Chairman
Enzo Olive Oil Company
Kyle Sawatzky
,
Secretary/Treasurer
Bari Olive Oil Company
Michael Carpenter
Pepper Oaks Farm
Jim Etters
Yocha Dehe Farm & Ranch / Séka Hills
Gregg Kelley
California Olive Ranch
Dan Kennedy
Kennedy-Couto Partnership
Jason Shaw
Georgia Olive Farms
Josh Swafford
Heart of Texas Olive Orchards
Brady Whitlow
Corto Olive Company
Become a Member
Producer Membership
Any individual or business entity that is actively engaged in the domestic growing of olives for the production of olive oil.

Processor Membership
A processor or handler is any individual or business entity that is actively engaged in the milling of domestically grown olives for the production of olive oil and who may also be engaged in the marketing of the olive oil for producers. 
State Association
Any non-profit entity established to organize and represent olive oil producers in a specified state
Support Member
Any individual or business that is supportive of the domestic olive oil industry
Please contact the AOOPA for the appropriate membership application. All applications are subject to approval by the Board of Directors. Memberships are paid on an annual basis. Anyone interested in joining the AOOPA should contact us at 559-472-7838 or send an inquiry to info@aoopa.org
Annual Meeting
Thank you to everyone who attended the 2019 AOOPA Annual Member Meeting and GOGA Conference in Georgia, February 22-23!

A huge THANK YOU to our sponsors and exhibitors - without their support, we would not be able to put together such an amazing conference program for olive oil producers!


Member Associations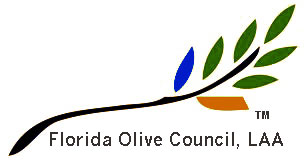 Florida Olive Council, LAA
The Florida Olive Council is a not-for-profit entity dedicated to promoting research, cultivation and marketing of olive trees and olive products. Supporters of the Florida Olive Council are dedicated to the highest standards of environmental sustainability, academic and business ethics.

Georgia Olive Growers Association
The Mission of the Georgia Olive Growers Association, Inc. is to promote, encourage and educate others about the growing of olive trees (olea europaea) in the State of Georgia along with the production and marketing of olive oil, pickled olives and other olive tree products derived from olive trees grown in our state.